Tech Barons blocking President Trump from his social media accounts should make every business owner sit up and pay attention. Read on to learn why this should be the warning shot that spurs you to protect your business.
Love him or hate him, President Trump uses social media to capture attention, inspire his followers, and torment his adversaries.
Some have argued that much of his populist appeal is rooted in the megaphone that social media platforms give him.
But on January 7th, Mark Zuckerburg decided to block President Trump's Facebook and Instagram accounts until at least the inauguration of President-elect Biden.
Twitter has since chosen to permanently ban President Trump from its platform.
This article isn't about the merits of Twitter or Facebook's decision–as far as I'm concerned, the platforms are theirs to do with as they wish.
But as a business owner–especially if you rely on social media to find or communicate with your customers–this move should be chilling.
It's a reminder that although social media is a fantastic tool, it's a tool you don't own. Your social media following isn't yours and can be taken from you at any moment for any reason.
The larger your audience, and the more you depend on social media to drive your company's revenue, the more your business is at risk.
There's a common saying in direct response marketing circles that says the most dangerous number in business is the number one.
One customer…
One product…
One revenue stream…
One lead source…
Depend on only one of these for your business growth, and you're in a scary place.
And President Trump's forced exit from social media is a clear example of how Tech Barons can silence anybody, no matter how large the targeted person's following, and irrespective of their personal power.
You might be in a favored industry one moment and enjoy incredible revenue growth and reach on social media, and the next moment find yourself out of favor. Without an audience. And without those eyeballs that contribute to your revenue stream.
What can you do about it?
How To Wean Your Company From Overreliance on Social Media For Prospecting, Revenue, and Communication
Let's say you lean on social media for your lead gen, and you're rightly frightened about the risk of depending on social media for your leads and revenue. What are your options?
First, start capturing the contact info of your followers on these platforms.
You still have your social media accounts, and that's currently where a big chunk of your audience lives. You don't see any risk of being de-platformed on the horizon, but you smartly want to protect yourself and your business going forward. So let's get as much out of social media as possible.
How can you do this? Give your audience a reason to hand you their contact info.
Here are some ideas:
Run a contest
Offer them a discount
Hold a free training
Give away something premium (i.e., digital content, a guide, a free product)
There are many ways to move people onto a list you control, and that should be your #1 priority.
Second, find additional lead sources.
Ride the social media horse as long as you can. But start building alternate lead sources so your business isn't supported by a one-legged stool.
Off the top of my head, here are some ways you can find leads and grow your audience without using social media:
Joint ventures with people who already have your ideal customers on their list
List swaps with indirect competitors
List rentals
Media buys
Print ads
And don't forget to mine your lists of past customers: dead lists, cold lists–these can be a goldmine.
Third, for brick-and-mortar companies, capture your foot-traffic.
Depending on where you are, this idea of capturing contact info from your foot-traffic may sound ridiculous. But if you are able to remain open and have customers in your physical location, then this is something you should implement immediately.
In addition to your online opportunities, capture the contact info of anybody who walks into your physical location.
Here are a few ideas to inspire you:
Give walk-ins an instant discount for joining your list
Fishbowl contests
"VIP Dollars" that can be redeemed at an exclusive in-store event (or online if your location's COVID restrictions prevent it)
The sky is the limit here.
The point is, you want a way to reach out to these people in a way that doesn't depend on 3rd parties: email lists, address lists, and so forth.
The Big Takeaway
Let the muzzling of President Trump be a cautionary tale that spurs you into action.
For the safety and future prosperity of your business, you must own your list.
Collect the names, email addresses, phone numbers, and (if possible) physical addresses of your prospects and customers like your business depends on it.
Because it does.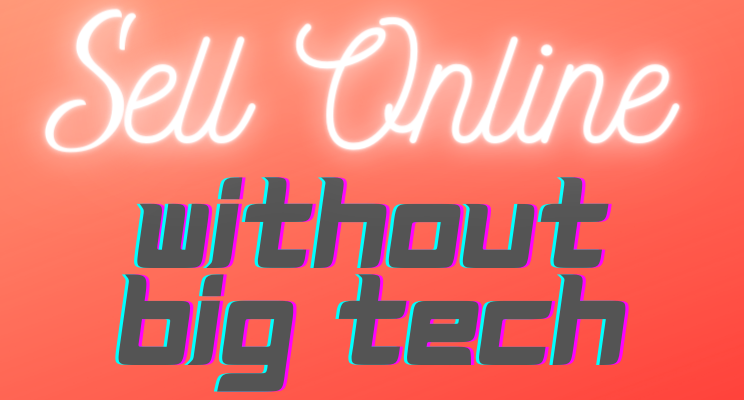 Discover how to sell online without big tech.
This training delivers you three solid options to sell online, without depending on search engines or social media for your traffic. Click here to register.
If you're interested in learning more about how to strengthen your online sales outside the reach of media barons, join me Thursday at 2:00p Central for a simple training that can create windfall profits for your business.